Microneedling Treatment Specialist in Canton, MI
Microneedling treatment at Prime Skin & Laser provides many encouraging benefits including scar treatment, anti-aging treatments, general skin health, and so much more. Call us today for more information or schedule an appointment online. We are conveniently located at 5748 N Canton Center Rd, Canton, MI 48187.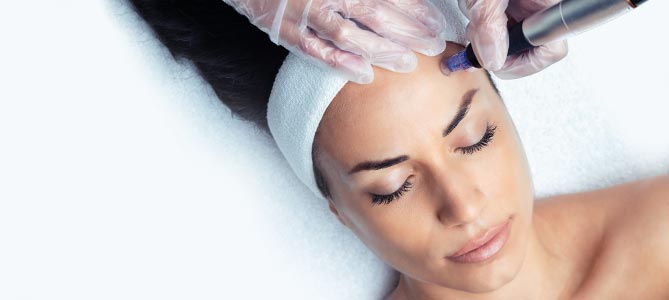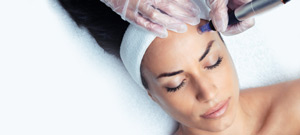 Table of Contents:
What does microneedling do for your skin?
How often should you have microneedling done?
How long do microneedling results last?
What are the benefits of microneedling?
What does microneedling do for your skin?

Microneedling cosmetic treatments encourage the skin to start naturally producing more collagen. The idea is to use microneedling in treatments on the face to cause minor injury to the skin, the body then naturally starts creating collagen-rich tissue to create new skin to take over the damaged skin.

When the new skin tissue is created, it allows the face to look more even-toned, with a smoother texture, providing more youthful-looking skin. Naturally, our skin begins to lose collagen as we age, or due to injury. What the microneedling treatment provides to the skin is to encourage it to create new tissue; this allows the collagen that is created to assist the skin to become firmer while providing many other benefits.
How often should you have microneedling done?

While each patient that visits our clinic will have a different treatment plan to follow. When it comes to microneedling treatments and how often you should be getting them done to be considered safe is on average once a month, or every 4 to 6 weeks. This frequency allows for the best treatment for the majority our patients with all skin types. Finding the right range that works best for your skin type and the aesthetic skin goals that you're trying to achieve will differ from others. Speak to one of our microneedling treatment specialists today to learn more.

If you are getting microneedling done for the first time, it will be highly recommended that you get "a round of treatments" completed to kickstart the process to see the best results faster. This round of treatments may include 2 to 3 treatments spaced out on average of four weeks apart.

Once you have completed the first round to kickstart the process, you can then start to book for regular treatments every 6 to 8 weeks. This may not be for everyone, which is why a consultation appointment is best to review your skin care goals, and get as much information as possible to make your decision.
How long do microneedling results last?

Many of our patients have started to notice results as soon as they have healed from their first initial treatment. This could take anywhere from 1 to 3 days after, some of the results seen are an immediate improvement to the skins tone and texture, as well as a beautiful radiant glow to the skin's surface. Not everyone will see immediate results, as everyone skin is different.

Micro needling is best for individuals looking to get help with their anti-aging regimen, to help reduce the look of scars, and for overall general skin health.

Results from microneedling treatments usually last anywhere from 3 to 5 months post treatment. Many of our patients will schedule maintenance treatments to continue to maintain the results while taking care of their skin through our recommendations for at home skin care routine's.
What are the benefits of microneedling?

Microneedling provides some incredible facial skin benefits that have our patients coming back for maintenance or touch ups regularly. Some of these benefits include:

• Reducing the appearance of fine lines and wrinkles
Aging is inevitable; while we can't stop ourselves from aging, we can reduce the appearance of aging through collagen boosting treatments like microneedling.

• Helps to reduce the look of scars
Due to microneedling treatments stimulating new collagen production, it is able to address acne and scars by reducing the look of them.

• Reduce the effects of sun damage
Microneedling has been noted to help reduce the effects of sun damage by stimulating new cell growth through collagen production.

• Turn back time on aging skin
Aging skin provides several different issues like wrinkles, discoloration, loss of elasticity, dullness, and much more. Microneedling treatments ramp up the production of collagen which helps fight all of the aging issues.

• Reduces the look of pores
Microneedling stimulates collagen production which plumps up the areas around the pores and reduces their appearance.

• Improves the effectiveness of other facial products
After a microneedling treatment, it is best to use other anti-aging treatments and products as it helps the products to be delivered deeper into the skin.

• Target stretch marks
Microneedling has been shown to help reduce the appearance of stretch marks.

• Reduces the appearance of rosacea
Microneedling stimulates collagen growth to help the face look less irritated and inflamed.

• Improves acne
In combination with acne treatments, microneedling improves the delivery of these products to the skin.

• Microneedling has fewer side effects than other facial treatments
Microneedling is compared to laser and chemical peel treatments, with the exception of downtime. With a microneedling treatment, you can enjoy a glowing complexion in as little as 72 hours.

You can come to Prime Skin & Laser in Canton, MI, to learn more about the benefits and other queries related to microneedling. We serve clients from Canton MI, Westland MI, Plymouth MI, Wayne MI, Superior Charter Twp MI, Frain Lake MI, and Van Buren Charter Township MI.